Yesterday was National Blonde Brownie Day. That's blonde brownie, as in not chocolate, not blonde as in Kate Hudson. Did you know there was a National Blonde
Brownie Day? I did not, until I discovered a list of all the
food holidays
in the United States. And while these days aren't especially significant, they are sort of fun. I thought it would be neat to honor National Blonde Brownie Day by making some blondies, since I've never done so before. Actually, I was just looking for an excuse to try out this recipe for Golden Oreo Cake Batter Blondies I found at
Sally's Baking Addiction
. I don't know where Golden Oreos have been all my life, but I tasted them recently for the first time and it was love at first bite. So vanilla-y. So wonderful. And since I adore cake batter, these sounded absolutely perfect. While these aren't technically brownies, being made with cake mix, they're buttery, chewy and delicious, so that's pretty much all that matters to me.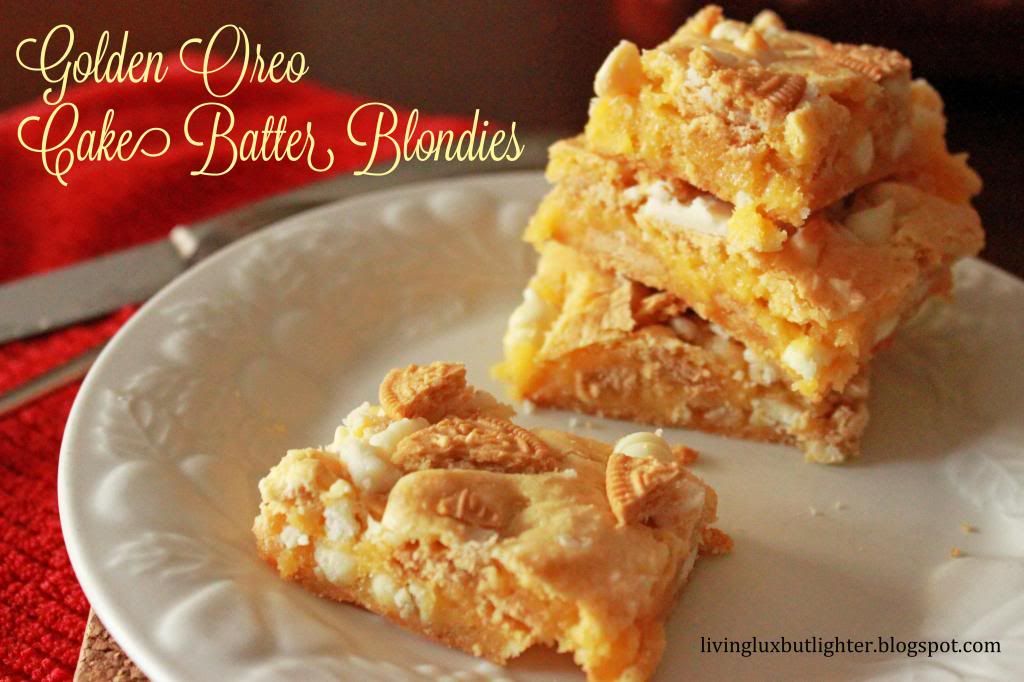 Golden Oreo Cake Batter Blondies
Adapted from Sally's Baking Addiction
Printer-friendly copy
Ingredients:
1 box yellow cake mix
1/4 cup canola oil
1 egg
1

/2 cup milk
1/2 cup white baking chips
1 1/2 cups Golden Oreos (about 12 cookies), chopped, reserve some to sprinkle on top
Directions:
Preheat oven to 350 degrees. Spray 11x7 baking pan with non-stick cooking spray. Set aside. Combine yellow cake mix, canola oil, and egg in a large bowl. Slowly add the milk. The mixture will be thick and dense. Fold in the white baking chips and the chopped Oreo pieces. Pour into the prepared baking pan, sprinkling reserved Oreos on top. Bake for 25-30 minutes until the edges are just turning brown. Allow to cool completely before cutting.
Serves: 32 bite-size bars
Calories: 114 calories per serving
National Peanut Butter Day is tomorrow, January 24. You can believe I'll be honoring that day!