Have you ever eaten a cookie-wich? You know, a cookie sandwich. Like an Oreo, but with better cookies. Soft, moist cookies. And LOTS more frosting. If you haven't, then this is the place to start. Because these are scrumdeeliumptious!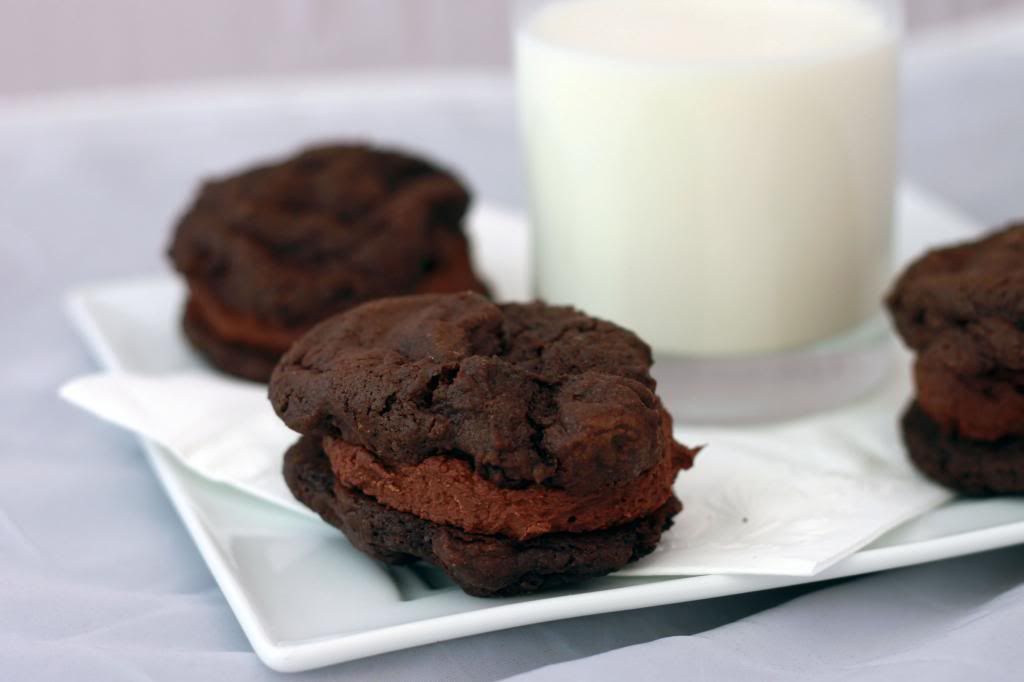 Dark Chocolate Cookie-wiches
Adapted from
Sally's Baking Addiction
and
Beantown Baker
Printer-friendly copy
Cookies
1 cup (2 sticks) butter, softened to room temperature
1 cup granulated sugar
1 cup light brown sugar
2 large eggs, room temperature
2 teaspoons vanilla extract
2 cups all-purpose flour
1 1/4 cups unsweetened cocoa powder
2 teaspoons baking soda
1/4 teaspoon salt
1/4 cup milk
1 bag dark chocolate morsels
Frosting
12 Tablespoons (1 1/2 sticks) butter, softened to room temperature
4 teaspoons vanilla extract
6 cups powdered sugar
1 1/2 cups unsweetened cocoa powder
1/3 cup milk
Directions
Place the softened butter in a large bowl and cream on medium speed. While the mixer is running, add the sugars and cream until light and fluffy. Scrape down the sides of the bowl, add the eggs and vanilla, and cream until smooth. Set aside. In another large bowl, sift the flour, cocoa powder, baking soda and salt together. Slowly add the dry ingredients into the wet ingredients, mixing slowly. Add the milk and dark chocolate morsels. When combined, the dough will be thick and very sticky. Cover and chill for 1 to 2 hours. Preheat oven to 350F degrees. Using a
medium-size cookie scoop
, scoop the chilled dough onto baking sheets. Bake for 12-13 minutes. Cookies will be very soft, so allow them to cool slightly on the baking sheets for 7-10 minutes before removing them to a wire rack to cool completely. While the cookies are cooling, cream the butter and vanilla for the frosting together. In a separate bowl, sift together the powdered sugar and unsweetened cocoa powder. Add the milk, a little at a time, as you may not need all of it to reach the desired consistency. Beat at medium-high speed for 5 minutes. Once the cookies have cooled completely, use a
large cookie scoop
and place a dollop of the frosting on one of the cookies. Place a second cookie on top of the frosting and slowly and gently sandwich the two cookies together. Store refrigerated in a sealed container. Allow to warm to room temperature prior to serving.
Servings: Recipe makes 21 cookie-wiches
(42 single cookies) with about 1/2 cup of frosting left over. You can do like my hubby and smear it on any other single cookies you have sitting around the house!
Calories: I have no idea because I don't want to know!