So as I mentioned in my
last post
, we've already begun grilling here in northeast Iowa. Tonight we grilled burgers, which I often serve with veggies, sweet potato fries, or mashed potatoes. I was in the mood for something fresh and "spring-y" though, so I flipped through my salad "favorites" binder and came to this recipe, which I made last year when I started my garbanzo bean kick (full of protein...gotta love 'em!). It makes a great big bowl and we'll be able to eat leftovers with chicken or fish all week long!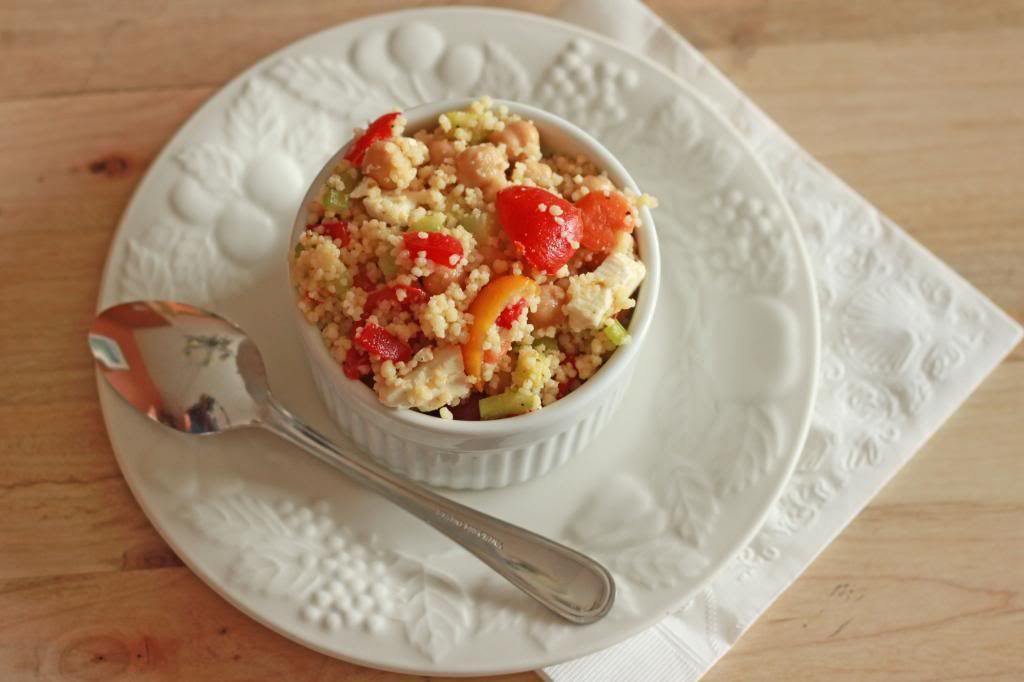 Couscous-Garbanzo Salad
Adapted from
Cooking Light
Ingredients:
Salad
1 chicken bouillon cube
1 cup water
1 cup uncooked couscous
1 cup grape tomatos, quartered
1 cup diced cucumber
1 cup celery, thinly sliced
1/2 cup diced carrot
1/2 cup diced red bell pepper
1 (15 1/2 oz.) can garbanzo beans, drained
Dressing
2 tablespoons extra virgin olive oil
2 tablespoons red wine vinegar
1 tablespoon fresh lemon juice
2 teaspoons
Penzey's Pasta Sprinkle
1 teaspoon minced garlic
1/2 teaspoon
Penzey's Shallots
(or use dried minced onion)
1/2 teaspoon salt
1/4 teaspoon ground black pepper
1/4 teaspoon crushed red pepper
Directions:
In a medium saucepan, bring water and bouillon cube to a boil, then gradually stir in couscous. Cover and remove from heat. Let stand 5 minutes. Place couscous in a large bowl and let cool completely. Fluff with a fork. Add tomatoes, cucumber, celery, carrot, bell pepper, and garbanzo beans and toss well. In a small bowl, combine olive oil, red wine vinegar, lemon juice and spices and stir with a whisk. Pour dressing mixture over the couscous mixture and toss gently.
Calories: 130
Serves 10-12 (1/2 cup serving)