There is nothing quite like the taste of fresh homemade pasta. Mike remembers his mother making pasta of all kinds when he was growing up, from fettuccine to ravioli. Several years ago I gave him a
pasta machine
for Christmas and every so often we take a few hours and make up a small batch. The pasta from this particular recipe is so tasty, you don't even need a sauce, although a fresh pesto sauce over the top would really be to die for!
Note: In addition to the pasta machine mentioned above, you will also need a pasta drying rack.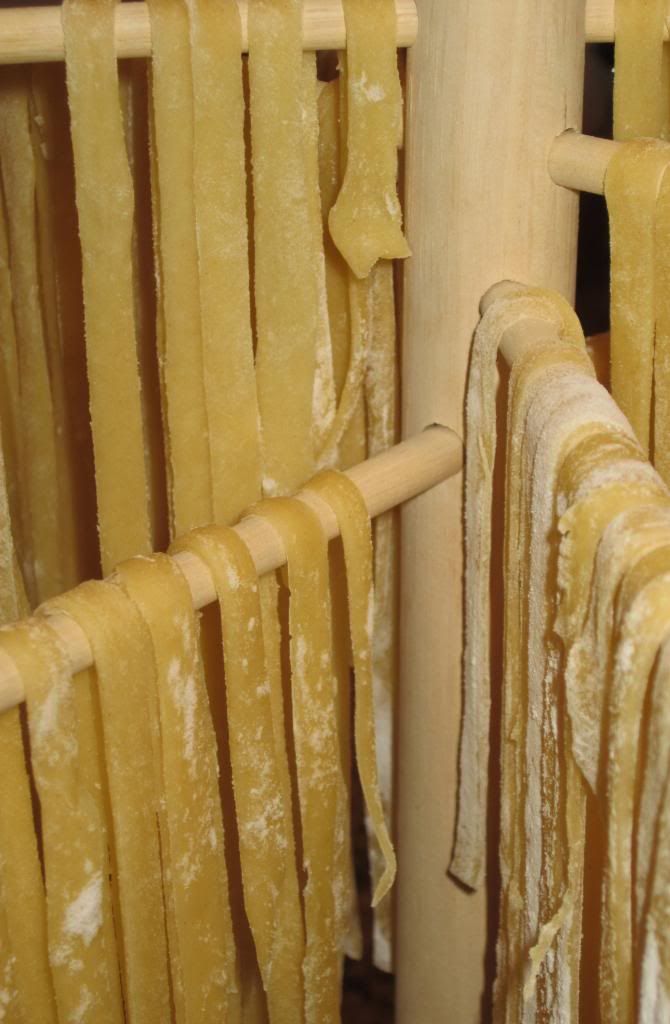 Fresh Pasta
Adapted from
Everyday Pasta by Giada De Laurentiis
Printer-friendly copy
Ingredients:
3 cups all-purpose flour
4 large eggs
1 tablespoon Kosher salt
1 tablespoon olive oil
2 tablespoons hot water
Directions:
Place the flour in the bowl of a stand mixer. In a separate bowl, lightly beat the eggs. Add the salt and olive oil to the eggs and stir. Turn the mixer on low and slowly add the egg mixture to the flour. Then add the water and mix until the liquid is evenly distributed. The dough should begin to stick together, but it will not form a ball.
Turn the dough out onto a lightly floured surface. Gather it into a ball and knead it gently until it is smooth. Cover the dough with plastic wrap and let rest at room temperature for about 30 minutes.
Cut the dough into eight even portions. Using a pasta maker, set the thickness setting to level 1. Feed the first portion of dough through the machine, cranking the handle clockwise to turn the rollers. The dough will press into a sheet. Catch it with your free hand and do not allow it to fold up on itself. Once the dough has fed all the way through the machine, set the thickness dial to 2 and feed the dough through the rollers again. Repeat until the desired thickness has been reached (about level 5 or 6). Place the sheet of dough on a well-floured surface to rest and repeat the process with the other seven portions. The cut the eight flattened pieces in half to make the dough sheets easier to manage as you form the noodles.
After all the dough portions have been rolled flat, fit the pasta maker's noodle attachment onto the machine. Feed each flattened dough portion into the noodle cutting attachment, cranking the handle of the machine clockwise. Catch the noodles with a free hand and carefully separate the pieces, hanging them to dry on a pasta drying rack. Repeat this process with each of the dough sheets. Allow the noodles to dry on the rack for about 2 hours. Store dried pasta in a sealed container and freeze, if desired, or cook to al dente in boiling water for 5-7 minutes.
Makes 1 1/2 pounds of pasta
Serves: 6
Calories per serving: 290
This was SO yummy AND we have leftovers for another meal that I stashed in the freezer. We really need to make pasta more often. Note to self...next time, make a DOUBLE batch!