It's not too late! If you don't have plans for Valentine's Day (like us, since we usually just order a
heart-shaped pizza
for Bubba...it's something fun), I really, REALLY recommend whipping a batch of these brownies. They are the best. Ever. Seriously. Bubba would eat them every day if he could. If I could actually keep them in my house. But they always disappear. Hmm...
I am usually not a fan of using mixes when baking (
Golden Oreo Cake Batter Blondies
aside). But since you don't follow the box directions with these brownies, I feel I can make an exception. That, and because they are so stinking fabulous.
I was introduced to these caramel brownies several years ago by my friend Missy. She brought them to work for a potluck of some sort and I instantly realized I
needed
the recipe. And am I ever glad she shared it! The recipe belongs to Missy's aunt's and, funny enough, I saw
The Pioneer Woman
bake some
suspiciously similar bars
on her show one day last fall when I was working out (yes, I admit it's an odd show to watch when exercising). But, as I mentioned, it's been a favorite in our house for years (and these don't include any pesky nuts). And they totally complement heart-shaped pizzas!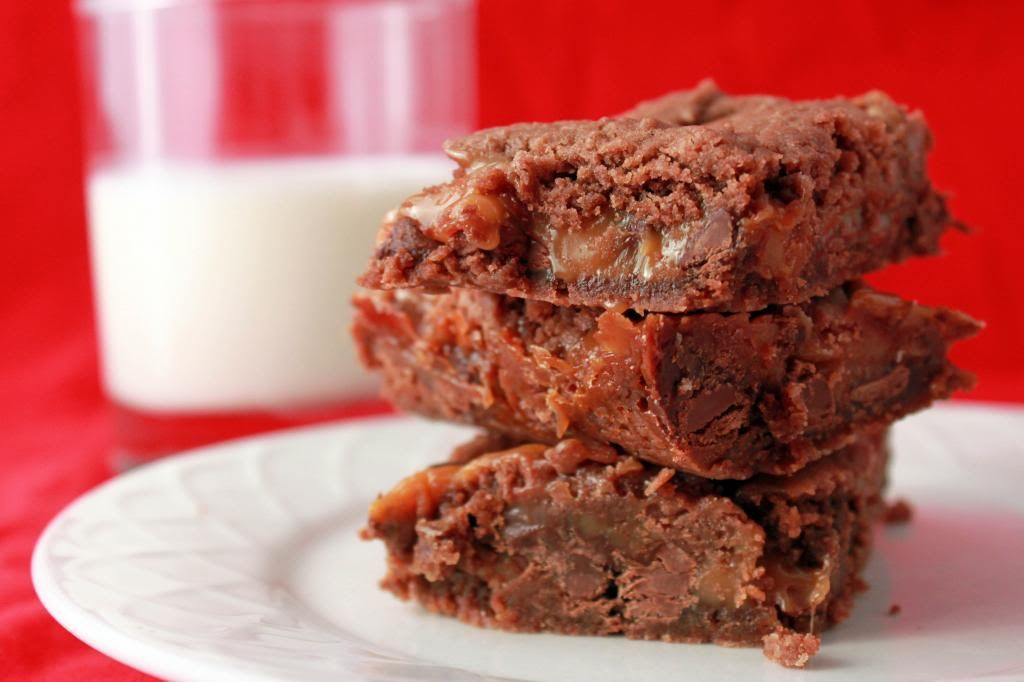 Decadent Caramel Brownies (aka Lydia's Goom Bars)
Printer-friendly copy
1 box German Chocolate cake mix
3/4 c. (1 1/2 sticks) butter, melted
2/3 c. evaporated milk, divided
1/2 tsp. vanilla extract
14 oz. bag of caramels (
Brach's
Milk Maid or
Kraft
), unwrapped
1 c. chocolate chips
Preheat oven to 350 degrees. Grease and flour a 13 x 9 pan. Combine cake mix, butter, 1/3 cup evaporated milk, and vanilla. Mix well (the batter will be thick, almost a dough consistency). Press half the mixture into the pan and bake for 6 minutes. While the pan is in the oven, place the caramels and remaining 1/3 cup of evaporated milk in a microwave-safe bowl and microwave on high for 30-second intervals, mixing after each interval until the caramels are completely melted and combined with the milk. After 6 minutes in the oven, remove the pan and, in layers, add the chocolate chips, caramel mixture, and remaining batter (in spoon-size drops) to the pan. Bake an additional 16 minutes. Allow to cool completely before cutting. Store in a sealed container.