My boy E loves his Nutella. L-o-v-e-s. So when I saw this recipe on my
Pinterest
feed, I knew it would be right up his alley. But the thing is, my boy is also picky. So I sort of have to run recipe ideas by him first, so I don't spend a bunch of time making something he'll take one look at and decide not to try. So I showed it to him. And his interest was piqued. And I hoped I might have a winner.
When the opportunity arose, I made the pastry dough. Unlike any pie dough I've ever worked with, this was a dream. It came together really easy, but wasn't sticky. And it rolled out into a perfect circle. I've never had that happen before! The most difficult part of the recipe was spreading the Nutella onto the narrow point of each triangular-shaped piece (there are great step-by-step directions
here
).
Bubba wanted to have a taste as soon as the pastries came out of the oven, but he did take my sage advice to wait until they cooled a bit. He ate one and asked for another (Mom score!). Then I decided I ought to have a taste. The rugelach was still pretty warm (no, I don't always follow my own advice...do you?) but it was also really crispy, like an actual pastry! And that's when I decided to snap a few photos (because this recipe is definitely a keeper) to send to my hubby. He's a Nutella fan, too. Later that evening hubby tried one and after that complained how much willpower it was taking not to eat another. He gave in, though. And so did I. Again. They're really that good.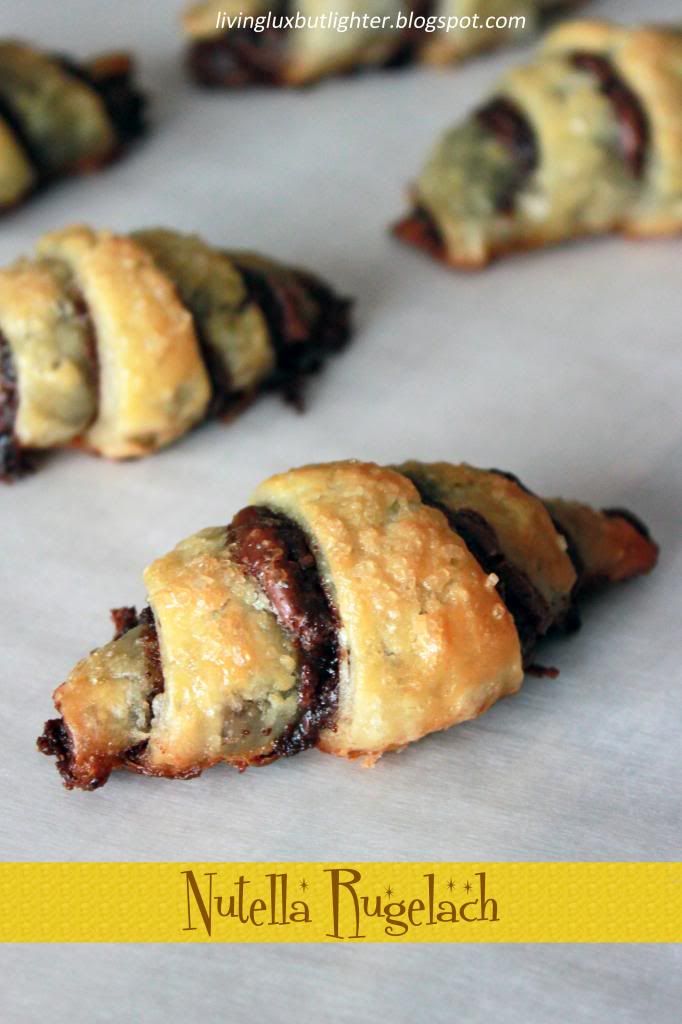 Nutella Rugelach
Adapted from
The Dough Will Rise Again
Printer-friendly copy
Makes 16 pastries
Ingredients:
1 1/4 c. all-purpose flour
1/4 tsp. salt
1 1/2 Tbsp. (4 1/2 tsp.) granulated sugar
1 stick (8 Tbsp.) salted butter, cold, cut into 1/2" cubes
1/4 c. Greek yogurt, plain or vanilla (I used non-fat)
1 1/2 tsp. vanilla extract
1/4 c. ice water
10 Tbsp. Nutella (warmed slightly, if necessary, to ease spreading)
1 egg + 1 Tbsp. water, beaten well
Raw or turbinado sugar, for sprinkling
Directions:
In a food processor, add the flour, salt, sugar, and butter cubes. Pulse until the butter is just cut into the flour, and there are pea-size pieces of butter (about 4-5 pulses). In a small bowl, whisk together the Greek yogurt, vanilla extract, and water. Add a third of the yogurt mixture to the food processor, then pulse three or four time. Repeat two more times until all the yogurt mixture has been added, and the dough has just come together (you want to keep the pulsing to a minimum, so as not to overwork the dough). Turn the dough out onto a lightly floured surface and lightly pat it so that it sticks together. Wrap in plastic wrap coated with non-stick spray and place in the fridge to chill for one hour. When the dough has chilled, lightly flour your work surface and roll the dough out to about a 1/8″ thickness. As you roll, be sure to lift and rotate the dough often, so the dough doesn't stick to the work surface. Once the dough is rolled out, cut it into a rough circle shape by trimming the jagged edges. Remove the scrap edges, and then cut the circle into 16 wedges. Using a butter knife or small spatula, spread Nutella onto each wedge; you want to cover it as well as you can from top to bottom, leaving a thin but substantial layer of filling. Then, roll each triangle up, starting with the widest end and rolling toward the point, and place them on a parchment-lined baking sheet (with the tip of the triangle tucked underneath the roll, so they don't start to unravel). Chill the rolls in the fridge for about an hour. Preheat oven to 400 degrees. Remove the pastries from the refrigerator, brush with egg wash, and sprinkle with sugar, if desired. Bake for 15-18 minutes, until golden brown. Allow to cool (if you can!) and enjoy. Store in a covered container.