Sometimes we have breakfast for dinner. Because it's easy. And fairly low in calories, considering the protein content. And since we don't necessarily care for a large meal as we start our day, it's also the only way we ever get to enjoy something like this: a German apple pancake. Apparently, these are also known as Dutch Baby Pancakes or Bismarcks or Danish Pancakes or a host of other names, but since I'm ethnically half German, we'll call it a German Apple Pancake. Whatever it's called, it's nice to pull it out of the oven and be able to eat it as a family while it's actually hot (tell me you know about how you can't do that with regular pancakes...the cook always ends up eating them cold...or - blah - reheated). This is one of hubby's faves and he never turns it down when I suggest it as a low(er) calorie dinner.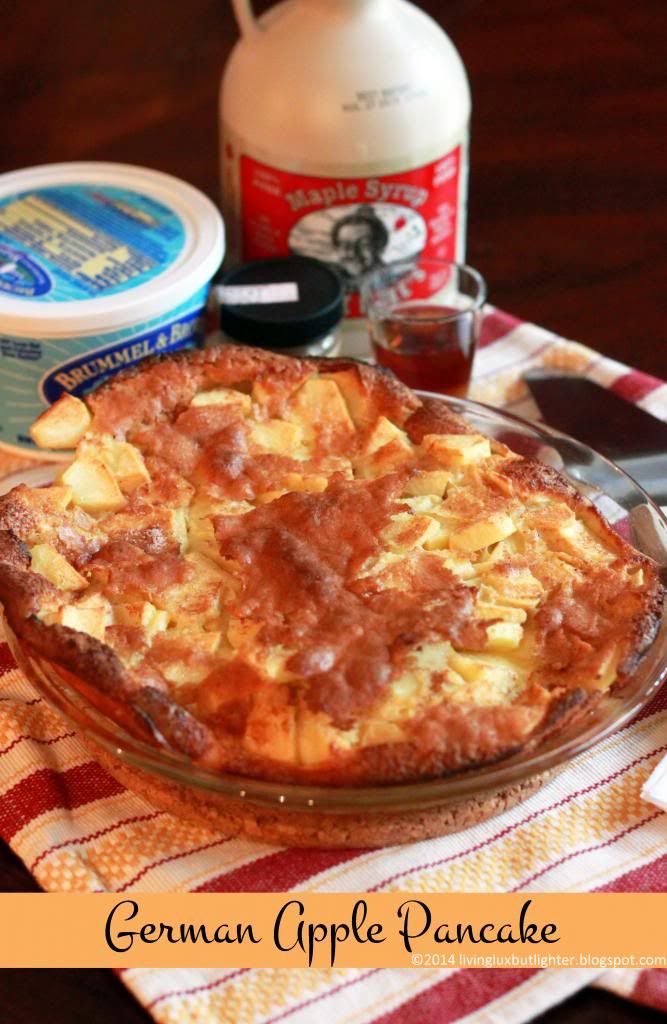 German Apple Pancake
Adapted from
Penzeys
Printer-friendly copy
¼ tsp. Penzeys Apple Pie spice (cinnamon may be used as a substitute)
2 Tbsp. Land O Lakes Light Butter
1 medium apple, cored, peeled and thinly sliced
Preheat oven to 400 degrees. Place an empty 8" or 9" glass pie pan in the oven to heat. Put the eggs, flour, salt, milk, and vanilla extract in a medium bowl and beat on medium speed for 1 minute. In a small bowl, combine the sugar and apple pie spice and set aside. Take the hot pie plate out of the oven and add the butter, moving it around to melt and coat the bottom and sides of the pan. Spread the apple slices in the bottom of the pan and then pour the batter over the top of the apples. Sprinkle the cinnamon sugar over the top. Bake for 20-25 minutes until puffy and golden brown. Serve immediately drizzled with maple syrup.
2 (two slices each or half a pancake), approximately 298 calories per serving