It's finally warming up in our neck of the woods. Finally (it's ONLY May!). At last it's time to put away the soup pot, fire up the grill and break out the salads. My go-to salad is this one. But, in all honesty, it takes a lot of time to cut up all the veggies. I needed something in my repertoire that was quick and easy. And I like a side dish that is either a) low in calories or b) packs a nutritious punch. And, of course, yummy (that's such a given, I almost neglected to mention it!) This salad is all of the above: fast, skinny, and filled with protein. And as a bonus for my friends with food allergies and sensitivities, it's both gluten-free AND vegan, so it will be perfect to share at this summer's backyard barbecues. Hubby declared it a keeper!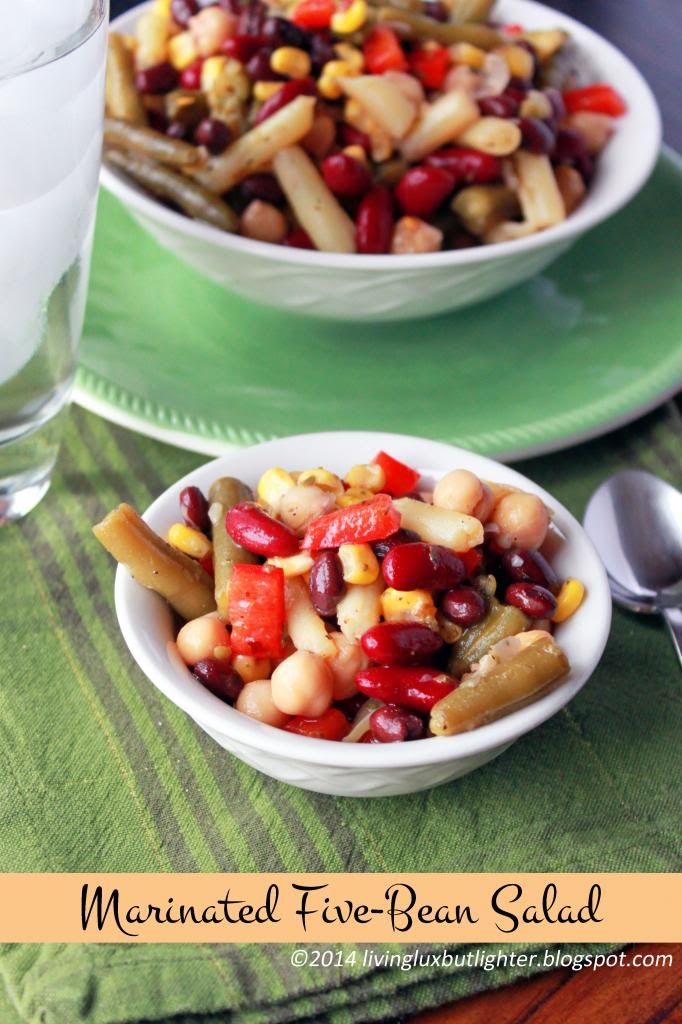 Marinated 5-Bean Salad
Adapted from CalorieKing.com
Printer-friendly copy
2 Tbsp. extra-virgin olive oil
1 ½ tsp. Italian seasoning
¼ tsp. red pepper flakes (optional)
1 can (14.5 oz.) wax beans, drained
1 can (14.5 oz.) cut green beans, drained
1 can (16 oz.) kidney beans, drained and rinsed
1 can (15 oz.) garbanzo beans, drained and rinsed
1 can (15.5 oz.) black beans, drained and rinsed.
Combine vinegar, Splenda, olive oil, and spices in a small bowl. Whisk to combine, then set aside. In a large bowl, combine corn, red bell pepper, and all varieties of beans. Toss, then pour dressing over the top and gently stir to ensure all the beans are covered. Cover and refrigerate several hours or overnight, stirring occasionally and prior to serving.
Serves:
8 generous servings, approximately 146 calories each