I had a revelation last week. I realized that, although the name of my blog is "Living Lux But Lighter," most of my recipes are...well...not so light. More like indulgent! So rather than change my blog name, I thought it might actually be a good idea to include a few "lighter" recipes. Brilliant, eh? I mean, I don't sit around eating
Decadent Caramel Brownies
all day! If only.
So, enjoy with me a new recipe we tried just last week. It's adapted from
Betty Crocker The 300 Calorie Cook Book
, one of the purchases I made a few years ago when hubby and I decided to drop some pounds. We've been gravitating back to lower calorie meals of late, because if one wants to enjoy a salty snack or adult beverage in the evening, one needs to not eat all of one's available calories at dinner!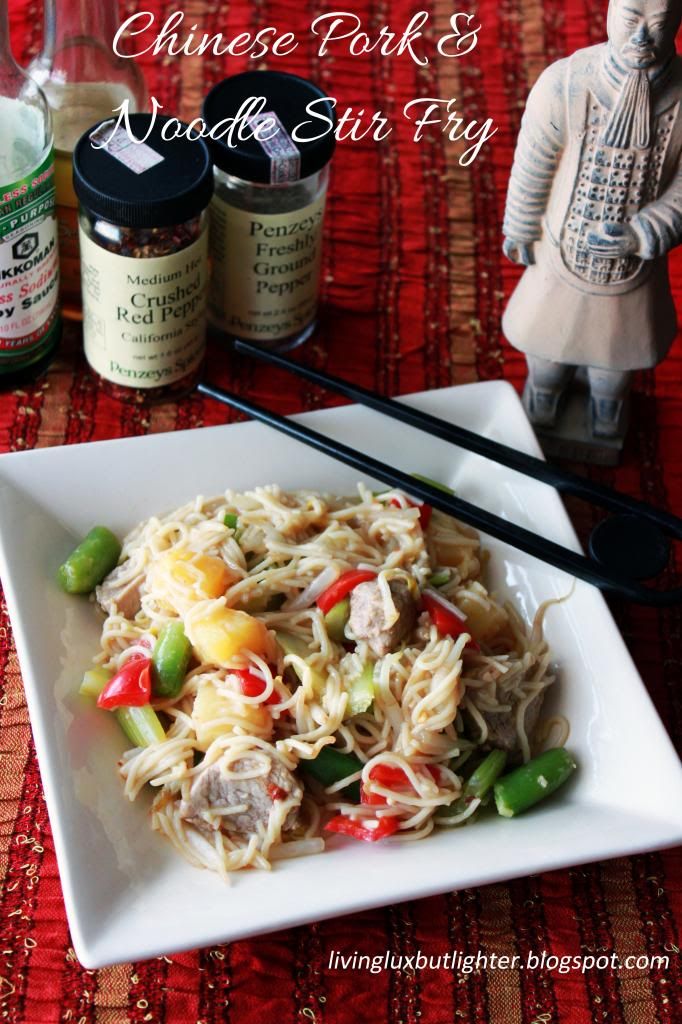 Chinese Pork and Noodle Stir Fry
Printer-friendly copy here
Ingredients:
1 - 8 oz. can pineapple chunks in juice, drained (juice reserved)
1 Tablespoon soy sauce
1 teaspoon
Splenda brown sugar
, packed
2 teaspoons minced garlic
1 Tablespoon cornstarch
1/2 lb. pork tenderloin, cut into 1/4 inch slices
4 oz. uncooked
Ronzoni Smart Taste
spaghetti
2 teaspoons sesame oil
1/4 cup fat-free chicken broth
1 medium bell pepper (any color), chopped
4 stalks celery, chopped
4 oz. fresh sugar snap peas, strings removed, cut in half
8 oz. bag mung bean sprouts
1/4 teaspoon red pepper flakes, optional
1/2 teaspoon ground black pepper
Directions:
In a medium glass bowl, mix reserved pineapple juice, soy sauce, Splenda brown sugar, garlic and cornstarch. Add pork. Cover and marinate in the refrigerator for at least one hour but no longer than four hours. Cook and drain the pasta as directed on package. In a large skillet or wok, heat sesame oil over medium-high heat. Add pork and marinade, stir-fry 2 minutes. Remove pork from skillet and add broth, bell pepper and celery; cook 6 minutes, stirring frequently. Add peas, pineapple, pasta and bean sprouts. Cook 2 minutes, stirring constantly. Return pork to skillet. Cook and stir about 1 minute until sauce is thickened. Garnish with red pepper flakes, if desired, and black pepper. Serve.
Note:
Replace mung bean sprouts, bell pepper, celery, and/or sugar snap peas with any combination of other vegetables, such as bok choy, onion, water chestnuts, broccoli, or baby corn.
This will affect calorie count.
Serves: 4
Calories: 265